We offer hearing checks and hearing aid fitting at HOME
Home Hearing consultations in Nottingham and NG post codes
Ear wax removal is NOT available via home visits.
With advances in miniaturisation of medical devices such as audiometers and in the size of programming hardware, it is now quite easy for us to visit you at home, but still carry out a thorough hearing examination! So, you can feel relaxed that you are still receiving the very best attention.
Our audiologists do not use demo devices (These are usually pre-release top-end hearing aids given to staff in larger chains). Instead, you may well be fitted with a brand new pair of 'live' hearing aids on day one. Our staff are typically able to select from 3 or 4 brands, even at home visits. We have all the necessary fitting equipment and consumables to set up your new hearing devices straight away.
All our audiologists are equipped with the Firefly Video Otoscope, the wireless device allowing you to see in your own ear canals – this can help us explain more clearly what is going on with your hearing.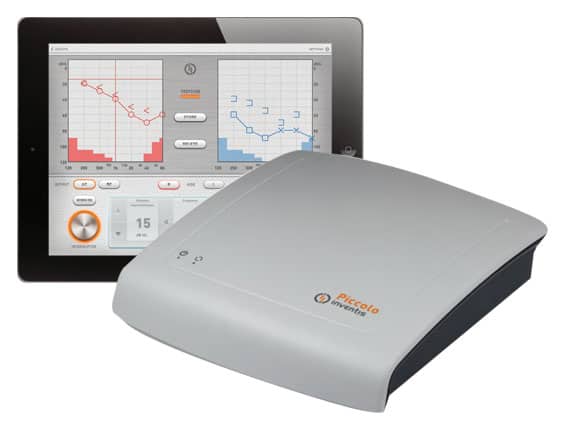 All our audiologists are equipped with the tiny Inventis Piccolo, the audiometer linked to iPad, featuring speech tests, air conduction and bone conduction measurements.
They are trained to fit and program all of the 'big 6' brands, and their home laptops are loaded with all fitting software too.
From John, pictured above:
"Alan Jackson has been my Audiologist for the past seven and a half years. That means between 15 and 20 appointments, so I feel qualified to recommend him wholeheartedly to anyone who thinks they might not be hearing as clearly, or as well as they used to. On a professional level, he is first class and in personal terms he is kind, considerate and never rushed.
His approach is quietly and methodically professional, combining an excellent understanding of the impact of hearing deficit on the individual, with a great deal of technical knowledge of what hearing aids can achieve, to produce tailor- made suggestions of products if aids are needed. He is also very skilled in servicing and maintaining aids to maintain their effectiveness and prolong their life.
When he decided to become an independent Audiologist, I was keen to continue to access his services. I was just at the point where one of my seven and a half year old aids needed to be replaced and Alan was able to do me a deal that was the same as I paid over seven years ago, for superior and more technologically advanced aids, fit and calibrate them for much less than I would have paid to his former national employer."
John, 20.02.2018
From Ms. P.R. on behalf of her father, Dr. R.B.:
"Alan has given us confidence in his skills and ability since we first met him. He is able to adjust his style and approach for my father as he becomes older and more infirm. He seems to be endlessly patient and calm and treats my father  with skill and respect. I have learned a lot about hearing and the use of aids since we met Alan. As a new user of hearing aids myself, I will definitely use his services. The personalisation and individualised treatment is first rate, and I would recommend him without hesitation."
Ms. P. R., Rushcliffe, Nottingham, 20,02.2018